Assessment
Academic Success is committed to creating an environment that supports the continuous evaluation and enhancement of student learning and development.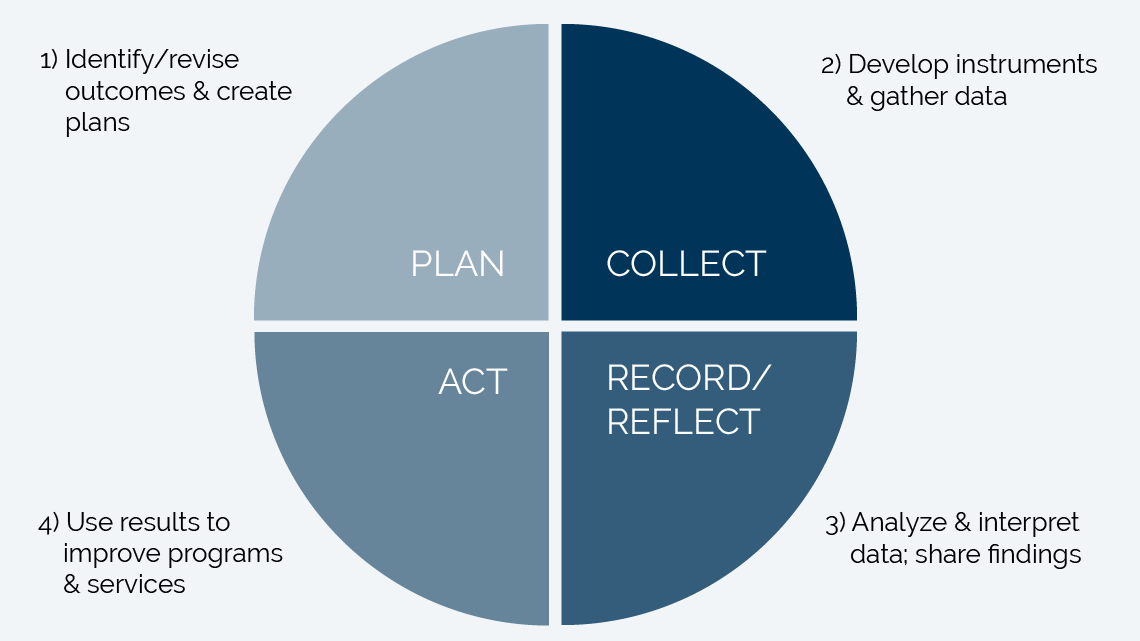 Assessment Life Cycle
We engage in strategic and systematic assessment to determine the effectiveness of programs and services. We utilize data-based decision making to ensure that we provide students with high-quality educational opportunities both inside and outside of the classroom.
Student Learning Outcomes 
Outline the next steps after admission to KU while experiencing a sense of welcome and connection.

Demonstrate effective use of online systems and resources required for KU student use.

Identify the services available to them at KU.

Identify the costs associated with attending KU and able to make a plan for payment and can repeat this each term.

Identify where to locate at least one resource on campus.

Identify the degree requirements of their college/school/department.

Develop a long-term plan to meet their educational goals.

Utilize Enroll & Pay to enroll in classes.

Identify the role of their academic advisor as a resource for academic success.

Interact with their assigned academic advisor at least one time each year.

Identify the role of their career advisor as a resource for career success.

Interact with a career advisor at least one time each year.

Take appropriate action to remove barriers to re-enrollment.

Interact with KU places and people to foster belonging and connection on campus and online.

Identify the benefits of writing as an on-going process that requires preparation and multiple drafts.

Demonstrate self-determined behavior through using the Access Online portal when following procedures requesting academic accommodations.

Demonstrate improved understanding of course-specific subject matter.

Identify the services, experiences and opportunities that connect to their KU Student Pathway.
The Student Learning Outcomes (SLO), identified by each of our areas and their respective units, represent what we work to ensure our "students will be able to do" after utilizing our services and engaging with our initiatives. For each SLO, there is an associated set of metrics to help us understand if a SLO was fulfilled. 
Students who use or interact with Academic Success services, programs and activities will also demonstrate awareness and relevant application of each of the KU Institutional Learning Goals as they progress through the KU Student Success Model.
KU's Institutional Learning Goals are intended to create a visible conceptual structure around assessment efforts that are already occurring and are an externalization of the university's values around student learning.
The Academic Success annual report, available in late fall, compiles the individual reports and assessment efforts from the prior academic year. Specific attention is paid outlining the unit-level work designed to support the Academic Success priorities, strategies, and SLOs.
Academic Success Unit Annual Reports