Taylor Hanna-Peterson
---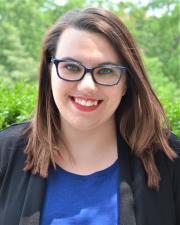 Success Technologies Analyst
Biography
—
Taylor Hanna-Peterson serves as the Success Technologies Analyst within the Success Initiatives team in the division of Academic Success. In this role, Taylor supports the Success Technologies Manager and Executive Director of Success Initiatives by creating, maintaining, and updating of Jayhawk GPS and Navigate Student App, an EAB student success management system designed to establish an online connection between a student and their academic support network which includes their academic advisors, faculty, and other support staff. Taylor also assists in overseeing the Student Navigator program, where the goal is to ensure students have a peer advocate and accountability partner to increase student completion within introduction coursework at KU. Additionally, Taylor coordinates a variety of student-centered technology programs, outreach, and education and training.
Taylor earned a Bachelor of General Studies in Applied Behavioral Sciences and a Masters of Science in Education in Higher Education Administration, both from the University of Kansas. Prior to her current role, she served as a Senior Academic Advisor with the University of Kansas Honors Program and an Academic Advisor in College Advising and Student Services (CASS) at KU, advising Psychology, Neuroscience, and Behavioral Science students. She also has several years working in KU Student Housing as a student and graduate staff member.
While in Academic Advising, she served as the NACADA (The Global Community for Academic Advising)  co-chair for On-Site Registration for the 2020 NACADA Region 7 Conference, and the co-chair the 2022 Region 7 NACADA Conference, hosted here in Lawrence. Taylor was honored with the 2021 NACADA Region 7 Excellence in Advising - New Advisor Award at NACADA Region 7 2021. Outside of work, Taylor and her husband are both proud Jayhawk fans and fur-parents to their rescue cat, Luna. She is also an active alumnae member of Omega Phi Alpha, National Service Sorority, KU's only Service Sorority.